---
---
I always have a song inside me. I don't mean the ones I write. I mean I can hear music playing in my head all the time, and there's no way to turn it off. This could drive lesser mortals mad, but I've survived and tap into this never-ending inner soundscape to fuel my monthly residency at Austin's eclectic and family-friendly Butterfly Bar (see more below), as well as three arse-kicking bands: the Brit-Pop tour de force that is The Late Joys, my novel psychedelic-alt-country-hillbilly-Americana-roots-rock-n-roll act The Bootleggers and power-folk duet The Study Session.
My musical stylings owe a lot to the sounds of various British Invasions — from the 1960s to the post-punk era — acts like the Beatles, the Kinks, Pink Floyd, Elvis Costello, The Jam, Billy Bragg, Squeeze, Pretenders, Blondie and The Clash, as well as melodic American acts like REM, X, Phil Ochs and Simon and Garfunkel, with a hint of The Replacements thrown in somewhere, sloppily!
I write songs that range in subject matter from social justice, liberty and equality to matters of life and death and, yes, I dare utter it, love.
---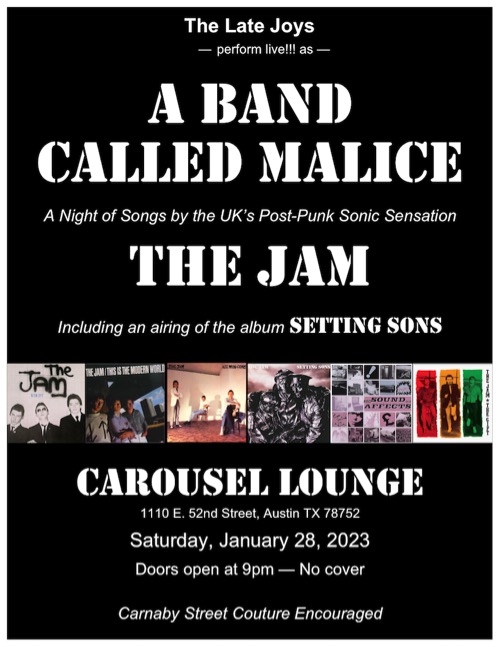 A Night of Songs by the Best Band Ever to Come Out of the UK*
Austin Brit-Pop trio The Late Joys perform (incognito) as A BAND CALLED MALICE — a night of songs by The Jam. Carousel Lounge, Sat. Jan. 28 9pm-1am. No cover.

Three sets of high-octane (and some surprise slow-burn) numbers, including an airing of the album "Setting Sons," should get your energy boosted! We'll run through the Jam gamut: songs from every album, songs familiar and definitely not! Plus a special guest or two to help us out. Carnaby Street Couture Encouraged!
*Yeah, okay, maybe there was that one other collection of Scousers...
---
The Bootleggers at the Carousel Lounge, April 2022
A handful of friends and fans old and new joined The Bootleggers at the Carousel Lounge, Saturday, April 9 for a one-night-only musical reunion of Austin's favorite psychedelic-alt-country-hillbilly-Americana-roots-rock-n-roll act, an evening that included excerpts from the band's (forthcoming) eponymous tell-all.
---
RE:REVOLVER 2020
The Late Joys Give The Beatles' Revolver a Spin
The Beatles' 1966 album Revolver might be the band's most important record, a groundbreaking, trailblazing, cliché-busting 35 minutes of musical magic. Austin Brit-Pop rockers The Late Joys performed Revolver in its entirety in "Re:Revolver2020," live at the iconic Carousel Lounge on January 25.
👉 More information (press release)
👉 Sign up on the mailing list so you'll be the first to know if we give Re:Revolver:Redux a spin!
---
[ samizdat-001 ] Thug Nation
Songs from the Resistance
---
You can tune in to my weekly happy hour live stream on Twitch, every Friday at 6pm Central time or...

Join me at one of my live shows!

There's my monthly gig at the Butterfly Bar, where you'll find me strumming and warbling in the yard at the Vortex, playing songs new and old, originals and covers (that's me in the photo, in the yard).
In addition to the Butterfly Bar shows (now in their eighth year!), my bands The Late Joys and Bootleggers occasionally suit up for a gig.
Check out these upcoming live shows:

👉 March 25: The Late Joys Big Big Sounds CD Release Party, Carousel Lounge, 9pm – lord only knows

👉 March 26: Robi (solo acoustic), Butterfly Bar, 8pm – 10pm
All ages; no cover






A bearded minstrel, spinning sonic yarns
---
The Late Joys
Everybody's Going Away (2009)
A Pretty Little One (2008)
The Study Session
[ samizdat-001 ] Thug Nation (rel. 2017)
---
Book Robi to Play at Your Next Event!
Do you have an upcoming event you'd like to spice up with a little live music? I'll come to you and play your living room, your back yard, your driveway — heck, you might even find me twisting by the pool. I've got the songs, the banter and all the gear required to add a dash of "Live Music Capital of the World" to your party.
👉 CLICK HERE for more information on how to book me to play your next fete.
---
Robi's Online Song Menu (Request a Song)
Are you planning to attend an upcoming show? (Are you at one right now?) Try ordering a song from my extensive song menu. It's easy:

(1) Browse the menu (see the link below)
(2) Pick a song or two
(3) Text or tweet me
(4) I'll play it for you!
Choose from American college radio hits of 1980s to UK punk and pop to older classics from both sides of the pond and more!
👉 CLICK HERE to order a song from my Song Menu.
---
Tip Jar
If you feel like "tipping the band" and are short on cash (or cash-resistant), here are ways you can drop some money in my tip jar electronically.
Venmo: @Robi-Polgar
Square: Click here to use a credit card
Thank you!
---